ONCE upon a time…
There was a small, women-owned business working out of a cozy studio inside an old red barn in the foothills of Santa Barbara. Plans the chicks laid at the end of 2020 began to hatch. A fledgling card line was born. And it continued to grow and grow.
Illustrations inspired by the beauty around them and their own sense of color and fun, spurred it on. Illustrations take a lot of time and these chicks were very particular about the printing process and the quality of the paper they used, so the villagers began referring to them as "the mother hens in that red barn press." The chicks didn't mind. They just kept going.
Today, their cards help people stay in touch with each other. The chicks think that's what life is all about – checking in and saying "hay" and "I love you" and "I miss you" and "I'm sorry" and "Happy Birthday" and "Thank you" and "cluck! cluck!" and all those other friendly greetings. Letting someone know that you're thinking of them and that you care about them, matters. These days, finding a handwritten, illustrated card among the junk and bills is like finding a little treasure, right?  Like a golden egg… And that's the story of The Red Barn Press.
(not) The End.
Sassy
Barnyard Boss
Sassy is in charge of the barnyard. A broody task master, she's been known to kick up some serious dust if she thinks anyone is laying around (get it?). She gets everyone up at the crack of dawn, drawing, painting, and filling orders.
Cluck cluuuuuck!
Maureen
Customer Service
If you have a question or problem with your order, Maureen's yer gal. Anytime of day you can find her pecking away (see what we did there?) at her keyboard, answering correspondence and making sure customers are happy. Mo (as she's known around the barn) is a good egg.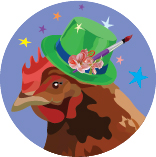 Lil' Red
Creative Director
Guess her favorite color! Actually, Lil' Red loves all colors. As our creative director and chief illustrator, Lil' Red adds color to everything she touches. If you attempt to steer her to a neutral palette, she'll cry fowl. Next thing you know she'll wattle off and you'll be left to finish the drawing yourself.